Its official now; the rumored Nokia Lumia 928 is arriving officially to  Verizon on May 16. Nokia Lumia 928 comes with 4.5 inch AMOLED WXGA display with 1280 x 76 resolution (334.0 ppi) covered by Gorilla Glass powered by Qualcomm Snapdragon S4 Dual-core 1.5 GHz processor, 1GB RAM, 8.7 MP Nokia PureView Camera with Windows Phone 8 running on it. The device supports wireless charging too.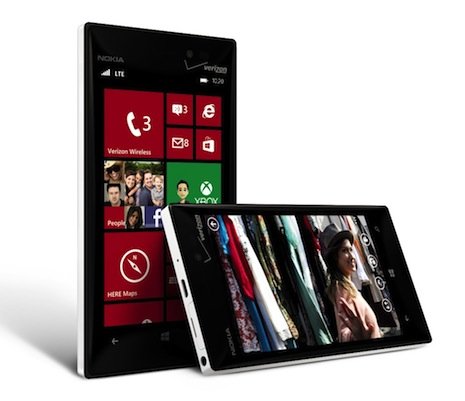 The Camera comes with 8.7-megapixel sensor with Nokia's PureView imaging technology, a Carl Zeiss lens & a xenon flash, including Optical Image Stabilization (OIS) which helps users capture blur-free pictures & videos even in low-light.
In terms of weight, Lumia 928 (162 gms) is a bit lighter ~23gms compared to Lumia 920.
Battery Life
It comes with non removable 2000 mAh BV-4NW battery.
In terms of the battery life while using it, Nokia claims that the device comes with talk time of 11.8 hrs on 2G network & 16.2 hrs on 3G network with a standby time of 606 hrs on 2G & 541 hrs on 3G. In terms of music playback, the maximum music playback time for the device is 80 hrs.
I am not sure how the specification mentions more talk time on 3G network compared to 2G network for the same device?
Full specifications of Lumia 928 can be viewed here.
Hands On
Availability and Pricing
It will be available on May 16th at VerizonWireless.com and local Verizon Wireless Store for a price of $99 with 2-year service agreement after a $50 mail in rebate.
For a limited time, Verizon will give the buyers $25 credit for Windows Phone apps and games with the purchase of the phone.