Most of Avtechies know that I am a big Kaspersky fan and for blogging reasons, I need to do so many tests with various software tools including securiy suites like Kaspersky Internet Security. During one of these tests while I was writing the post about how to manage Parental control feature of Kaspersky Internet security, I set a password for Kaspersky. I forgot to remove the password and even forgot the password as I never needed to change anything with Kaspersky.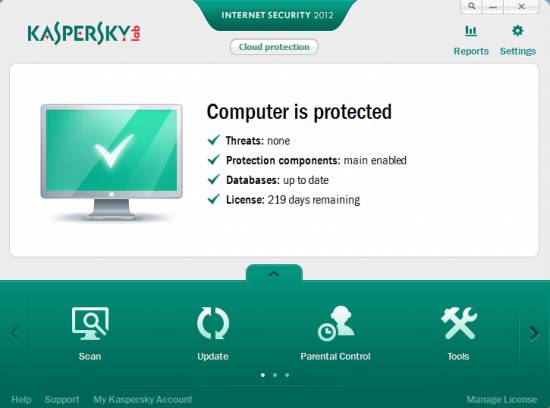 But today, I needed to do something with Kaspersky Internet security settings, but It was asking for a password. I tried almost every password I use, but sill it said wrong password. Finally, I had to start finding a way to reset the password. I even uninstalled it using the Kaspersky Removal tool (which helped me do the uninstall without being asked for password) and then installed it again. But looks like the password was not removed while uninstall and it remained inside the registry setting somewhere.
Finally, I got the solution from Kaspersky technical support website. The resetting password process needed some change in registry and that too after booting into safe mode. Keep in mind, the registry cannot be changed while using windows normally. You need to boot into safe mode to do the changes.
To disable password-protection, do the following:
download the archive passoff2011.zip
unpack all files from the archive passoff2011.zip
restart your computer in Safe mode (Press F8 just when your system boots to start your compuer in safe mode)
from the archive run the file:

x86.reg – if 32bit OS is installed
x64.reg –if 64-bit OS is installed

in the Registry Editor window click Yes and make sure the information from the registry key has been successfully added to the system registry


How to reset password for Kaspersky Lab 2012 Products
The two registry files provided by Kaspersky will work for Kaspersky Lab 2011 products. But for Kaspersky Lab 2012 products, you need to edit the registry files a bit. You need to just change the pah a bit so that they represent Kaspersky lab 2012 products. The screenshot below shows you how to do that. I have just pasted the content of the files (for 32 bit and 64 bit OS) in same file for illustration.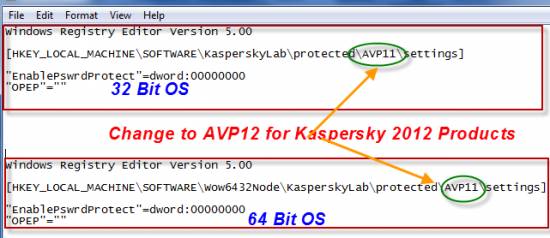 Now by just merging the relevant registry file (just by double clicking) depending on your OS in safe mode, your Kaspersky Lab product Password will be reset and you can again use it or set a new password.