If you own a Windows Phone, the most desired app for many of you had been a File manager. Till now, Windows Phone doesn't have any file manager app which s a common in other platforms like Android which comes with loads of file manager apps.
Microsoft has finally heard this user feedback and has launched a file manager app called "Files" for Windows Phone devices running Windows 8.1.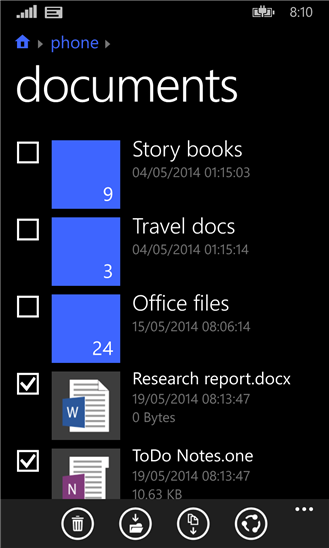 This is a free app and can help you manage files on your Windows Phone. Some of the features that comes with this app are:
Access files on phone and SD card
Browse, search and launch files
share file(s)
Create folders
Copy, move, rename and delete files
Even though this is a welcome addition to the list of good apps that are available on Windows Phone device, yet the problem is that old Windows Phone users who are running older version of Windows on their devices i.e any version less than Windows 8.1 won't be able to install this app. The app works only with Windows 8.1.
Download
If you have a device running Windows Phone 8.1, then you can download it free from the Windows Phone Store here.