Using a security application for protection from Spyware is essential for almost every PC user even if he is using an Antivirus on his system. SuperAntispyware is is one the popular Anti Spyware applications that can help protect users from Spyware. It is available both as a Free and Pro application with Pro version providing you more features than just the manual scanning and removal of Spyware, Adware, Malware, Trojans, Dialers, Worms, KeyLoggers, HiJackers etc.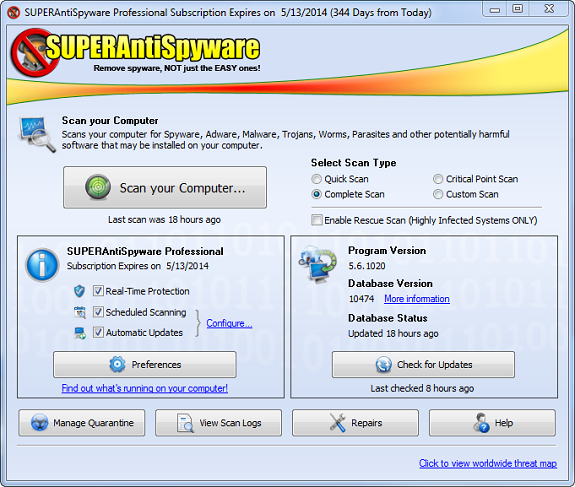 Some of the additional features that are available in Pro version compared to Free version are:
Ability to repair issues like broken Internet Connections, Desktops, Registry Editing etc.
Scanning critical areas of system during each start up and shut down.
Real-Time Protection instead of the manual scanning.
Registry Protection against Browser Hi-Jackers and other threats.
Ability to Schedule either type of Scans Daily or Weekly.
Auto-Scanning on application start-up
Automatic program and definition updates every 8 hours.
Apart from the anti-spyware capabilities, one of the best features available with SuperAntispyware is the ability to fix some of the most common problems in few clicks, caused by spyware, malware infection of the system e.g it can reset Internet explorer homepage, enable start menu again, can repair broken network connections and much more. Just look at the screenshot below for more details.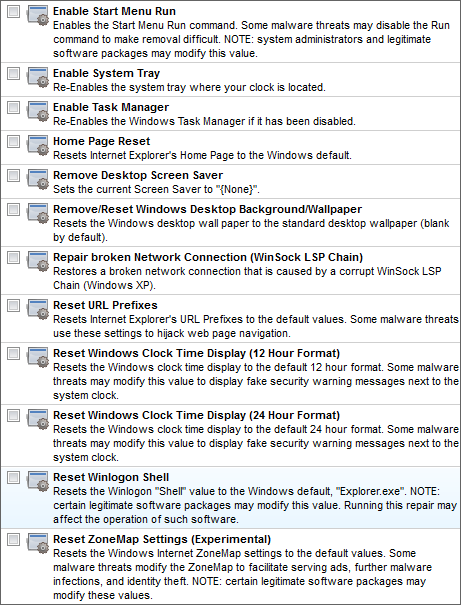 Another feature is, the real time protection of Home Page, search engines etc of the browser and it blocks any spyware, malware or even adware from changing the default home page and default search engine of the browser.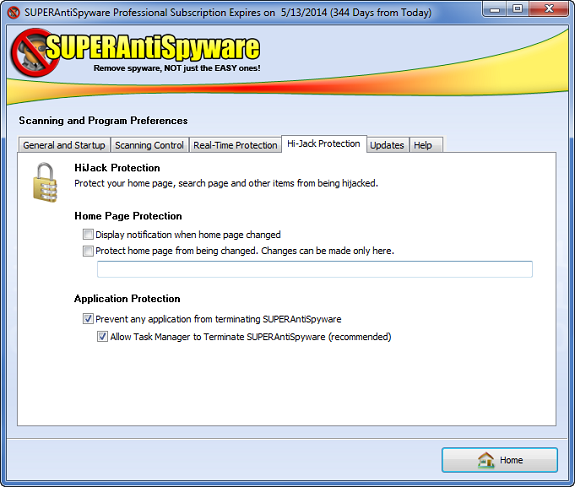 In terms of the memory footprint, it doesn't consume much memory to run on your system. During normal running, the memory consumption on my net-book varied between 1 MB to 5 MB.
If you miss a scheduled scan either due to your system not running or any other reason, it does ask you to run that scan once your system is up and running.
Giveaway
Thanks to SuperAntispyware, we are giving away it's 20 License keys (1 Year Validity) to our readers.
a Rafflecopter giveaway

If you want to try your luck to grab SuperAntispyware Pro, please enter the Giveaway.