We may soon be getting a big news in terms of iOS 6.1 Jailbreak for all iOS devices. This new jailbreak is coming within a week from a group of hackers evad3rs consisting of @pimskeks @planetbeing @pod2g @MuscleNerd . The team promises that the jailbreak would work for all iOS devices including Iphone 4s, iphone 5, all ipads & ipod with a single exception of AppleTv 3G.
The Official iOS 6.1 Jailbreak Untethered Release Date is 3-th February, 2013 (Sunday). The devices that are confirmed  to be covered by this Jailbreak are:
iPhone 5
iPhone 4S
iPhone 4
iPhone 3GS
iPad Mini
iPad 4
iPad 3
iPad 2
iPod Touch 4G
iPod Touch 5G
AppleTv 2G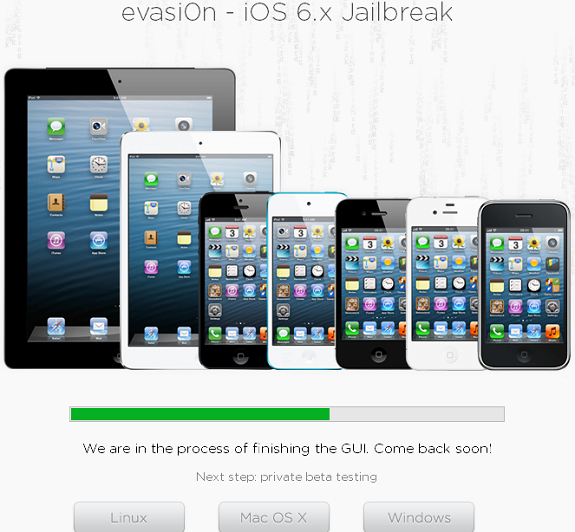 The jailbreak being developed will work on Linux, Mac OS X and Windows. You can keep tack of the Jailbreak release at http://evasi0n.com/ as told by the twitter account.
The official evasi0n 6.1 jailbreak: evasi0n.com — Check regularly for updates!#evasi0n

— evad3rs (@evad3rs) January 31, 2013
Do you own any of these devices? Are you going to jailbreak it if its available for your device? Share your opinion with us below.