Popular Antivirus maker, Avast have released a public beta of their latest Antivirus software, Avast 8.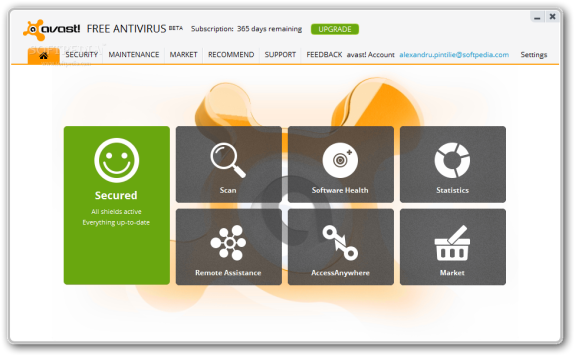 Let's take a look at what the new version offers.
The most notable change is the interface, but they have added some more features to Avast as well. A new product tier called Premier has been introduced with a Data Shredder,Software Updater and AccessAnywhere (for remotely connecting to your PC). It also includes a standalone toolbar remover.
FileRep & WebRep have been improved for better real-time protection, as will the Streaming Virus Definition Updates.
Here is a list of all the known issues in this beta version:
– Win8 is unsupported by this build (but Win8 compatibility is coming soon, of course)
– Except English, there are many translation issues
– Automatic Profile detection in the firewall is broken – does not work on Win7
– No information popup on controlled PC when client is connected via avast! AccessAnywhere
– List of computers shows offline PCs and also those that don't have AccessAnywhere activated
– Self defence dialog appears when reinstalling over older builds
– After facebook registration setup might crash so reboot is required to start avast! service
– During softrial gui is not correctly updated
– Data shredder cannot shred files and partitions (GUI bug)
– There might be stability issues with Outlook plugins
– UI might hang sometimes during connecting to avast! account
– Some online content does not fit or is not translated yet
You can download all versions of Avast 8 Beta for free from the Avast Forum .
Note: You can install the beta version over your existing version of Avast, and it should work and also transfer the license if you have any.
image courtesy Softpedia