Its party time again. Freebies are raining. Thanks to GIZMO again and now you can get a-squared Anti-Malware for FREE! (24 hours only) on 11/11. A-Squared Anti-Malware is one of the best anti malware tools available to counter against malwares.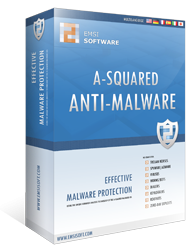 KEY FEATURES
2 world class scanners combined – best in multiple tests!
Against all dangers: viruses, spyware, trojans, bots, rootkits, etc.
Advanced cleaning to remove every infection
File guard that checks programs while startup
Permanent behavior analysis of all active programs
Surf protection that blocks harmful and fraudulent websites
Community- and cloud-based help with decisions
Bonus feature: Application protection against manipulations
Explorer integration – right click scan
Easy to use – little alert windows
Extensive program help and video tutorials
HiJackFree tool for professional users included
Commandline Scanner included
HOW TO GET IT FREE
On a special day 11/11 , Emsisoft are releasing a-squared Anti-Malware program with a free one year license.The offer will be valid only for 24 hours commencing at 11:11 (CET)Â  on Wednesday 11th November, 2009.
Just follow this link to obtain your license:
http://www.emsisoft.com/en/order/24h/
Please note that a new user account is required to get the free license.