Most Windows user remember Skydrive as a forgotten service offered by Microsoft which still offers a whopping 25 GB of cloud storage space for free. I used the term "forgottten service" for skydrive for the reason that it lacked almost every feature that you can thought of, in a good cloud storage provider like Dropbox or Sugrasync. The major reason was the lack of good syncing capability across different devices or even different PCs.
Looks like this  scenario is going to change soon as Microsoft just pushed a major release or upgrade to its skydrive service. Microsoft has released apps to access Skydrive on different platforms with the ability to sync everything on each of your device where you install the Skydrive App. Apart from this major change in terms of feature and App release, this update comes with numerous other changes about which we will talk about in this post.
New Features of Skydrive
Skydrive Apps for major platforms like Windows, Mac, iOS (i.e iPhone and iPad).
Ability to Sync, access, browse  & stream your skydrive files from anywhere.
Drag and drop files upto 2 GB into skydrive
Offline access to all your files with Windows Explorer.
A very small installer with just 5 MB in size.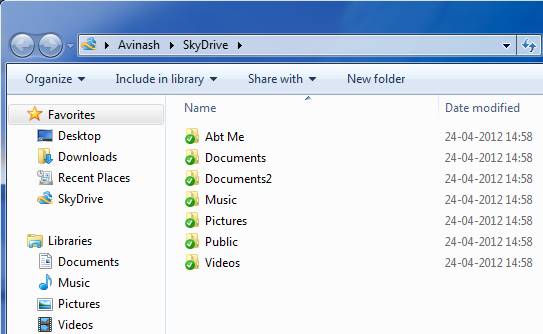 Free Space Limited to 7 GB instead of 25 GB
With this major update, here comes one bummer. Skydrive has reduced the amount of free space available to users  to 7 GB now from the previous limit of 25 GB. Even though 7 GB is good enough for most of the users, some big users may feel bad about this reduction. For users who need more storage than 7 GB, can buy additional space from Microsoft on annual basis.
Claim your 25 GB Space as Free Upgrade
There is some good news though for old users of Skydrive. For a limited time, any registered SkyDrive user who has uploaded files to SkyDrive as of April 22nd can opt in to keep 25GB of free storage while still getting all of the benefits of the new service.You need to just sign in into your skydrive account and you will get the option to upgrade to 25 GB of cloud storage for Free.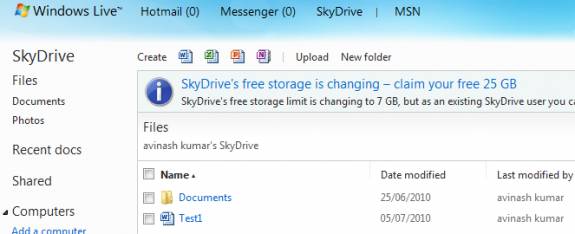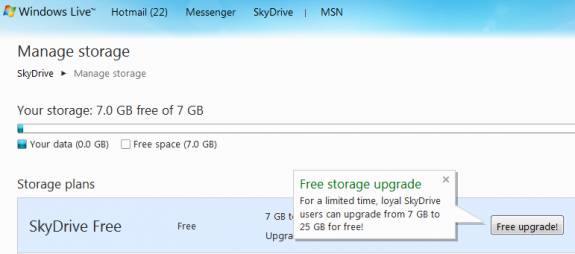 No Support for Windows XP
One of the bad or ridiculous restrictions that come with this major update is, there is no support for available for users who are on Windows XP. You can only access your SkyDrive from Windows Explorer on Windows 8, Windows 7, and Windows Vista. This restriction looks odd as Windows XP still command a major user base all over the world. The restriction can not be justified unless there is some commercial motive from Microsoft. We can only guess.
Download Apps
Download for Windows (preview)
Download for OS X Lion (preview)