Few days back i wrote about how to get genuine Paragon Total Defrag 2009 license and Paragon Partition Manager 9 for free and these offers are still valid. Here's another one from Paragon software. You can get Paragon Drive Backup 9 Personal edition for free which usually costs around $39.95.
It protects your entire PC, undo software malfunctions or crashes, and safeguard your data with our latest Drive Backup 9.0 Personal Edition. It  restores your system whenever disaster strikes, and optimizes storage using its Smart Backup to keep your system running at top speed.
Along with entire disk backup, you can now recover/restore your PC or laptop with our handy bootable, portable rescue USB flash drive.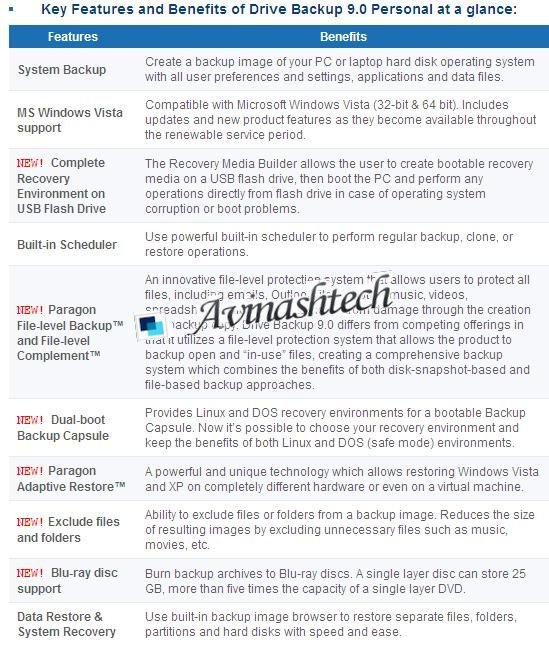 You can get it free with the offer from paragon software. But there is some difference with the free version and pro. You can see in the screenshot below.
Visit this  Promo page. 
Fill in the details required like first name, last name, email etc. and then click SUBMIT button.
You will receive an email with product key / user name and serial number for Paragon Drive Backup 9 Click .
Download the Paragon Drive Backup 9 Edition setup installer by the links at the end of this article.
Enter in the product key and the serial number during installation to activate the full version of Paragon Drive Backup 9 Personal Edition.
Download [32-bit: DB90_SE_x32.msi]Â Â Â  [64-bit: DB90_SE_x64.msi]