If you plan to buy one of the Microsoft Surface Tablets released recently on 26th October, here is something that you must be aware of before making the final decision of buying either the 32GB Model or 64GB model. Full storage capacity of Surface is not available for the user to store their music, photos, videos or any other content. Surprisingly, a large portion of storage space is used by Surface pre-installed apps and by Windows 8 operating system & features like protection and recovery.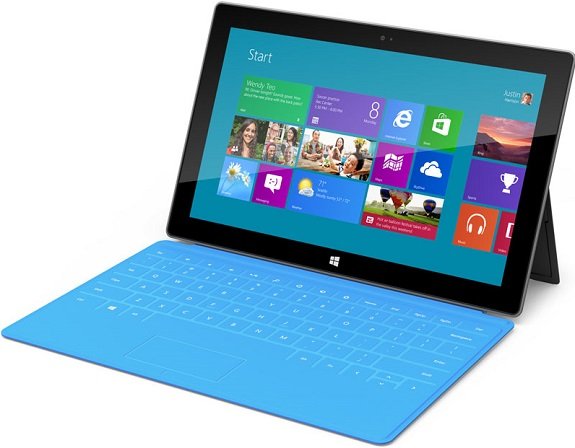 Why Free Disk space on MS Surface is too less
As per Microsoft own FAQ page, 32GB Model of Microsoft Surface has almost half the space i.e 16GB out of 32 GB is already filled. You can use only 16GB space  to store your music, photos, videos or any other content. Similarly, in Case of 64 GB Model, user has only 46GB of Free hard disk space and almost 18GB space is used by Windows itself.
You should keep in mind that the actual storage of any tablet when converted to GBs automatically gets less e.g in MS surface, 32GB Model has a total space of only 29 GB and 64 GB model has only 59GB storage space.
Breakdown of disk space for the 32 GB and 64 GB models tell you that almost 5GB is used by Windows 8 for Recovery feature and almost 8GB is used by Windows RT, Microsoft Office and built-in apps which when combined comes out to be more than 13GB.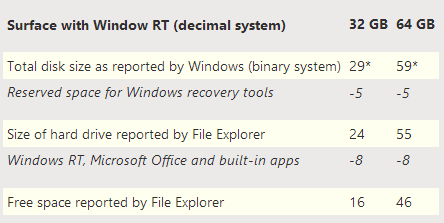 If you compare it with iPad, a 32GB iPad model uses ~4-5GB space for its core operating system and preinstalled apps leaving much more free hard disk space for the user.
Get More Storage
Surface tablet though supports USB and even microSD, microSDHC, or microSDXC memory card upto 64GB. So if you need more storage space, you can easily use an external SD card to increase storage space. If you have good network connectivity, you can even use Cloud storage services like SkyDrive and Dropbox.