Some of you may remember that we had a new rule few weeks back with MBAM Pro giveaway making feedback compulsory for winners. Every winner was required to provide a brief feedback at Forum of the product Won else the winner will be blacklisted from Future Giveaways at Avinashtech.
Today I am just putting up the blacklist of winners who didn't provide feedback after they won a Giveaway here at Avinashtech.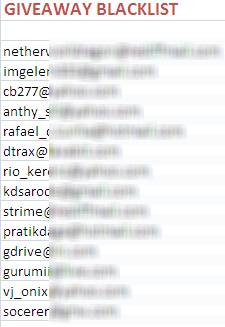 If someone in the list thinks, his/her email should not be in this list, please provide the feedback of the product you won here at Avinashtech in the Forum. The list will be updated with every giveaway at this Forum Thread.