Apple latest iPhones i.e iPhone 5S and iPhone 5C are now available for pre-order  at ebay India store. The Apple iPhones are yet to arrive officially in India and hopefully will be arriving officially in India in next few months even though there is no official word from Apple about Indian Launch.
But for those of you impatient Apple fan boys who want to grab the new iPhones as soon as possible, they can grab through the ebay India store. Even though you can try ordering it from US store too using services like Shopnship, but for most users its easy to buy from these sites to avoid hassles.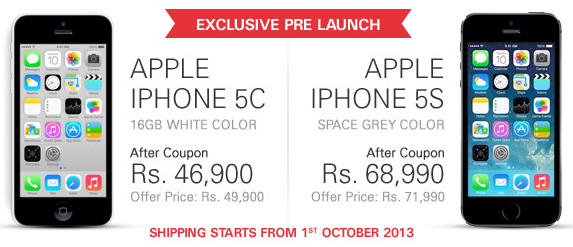 As the devices are yet to be released here, obviously the pricing at ebay India looks a bit high. At the moment, you can grab the iPhone 5CÂ  Rs. 46,990 and iPhone 5S for Rs. 68,990 after applying a discount coupon code of Rs 3,000.
Our device though, wait for the official launch of the devices by Apple. The pricing will be much better than what you see here.