PDF (Portable Document Format) files are the most widely used all over the world. Some of the reasons that PDF files are used widely include the compactness, the security like blocking access to printing or editing and still being accessible with a free PDF reader like Acrobat reader.  These features often though need to be bypassed and you need tools to edit the PDF files for one reason or the Other. PDF editing is possible with commercial tools like Acrobat Pro, but it is very expensive and most users don't need all the features that it offers.
PDFedit995 is a free tool which offers loads of features for editing the PDF files. Some of these features include ability to combine multiple (2 or more) PDF documents into a single document, extract individual pages from big files having hundreds of pages, Optimize PDF documents for web viewing, Compress existing PDF, Rotate pages, Batch files support and much more.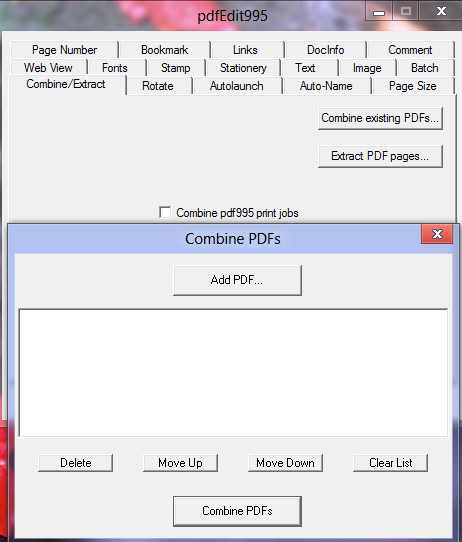 Even though the GUI of the application is not so great, yet it does the job of Editing the PDF files quite well.
Download
You need to download and install the following files to make it work fully.
One of the drawbacks is even though the tool is said to be free, but it is supported by Ads. Whenever you run this tool, a small splash screen in the form of some banner ads appear below the tool start-up  screen for few seconds. The other drawback , you need to download and install more than one file make PDFedit995 work properly.
What about you? Which tool you guys use for editing PDF files whether its Free or Paid ? Do share it with us using the comments below.