Skype is the most popular VOIP client which makes it possible to make free Skype to Skype calls and with a paid subscription, you can also call offline contacts on their mobiles and landlines. If you want to test its quality and get a free ride too with a unlimited world subscription, here is the deal. Skype is offering its old customers ( anyone having a Skype account older than 29 days) unlimited calling free for an entire one month letting you  call offline contacts on their mobiles and landlines for FREE in addition to the Free Skype to Skype calls.
Only problem with this offer for many users may be that to avail this offer, Skype needs your Billing details like credit card information etc., and you must cancel this unlimited world subscription within 27 days of start of trial otherwise you will be charged €10,49 for the next month.
To grab this offer, just visit the promo Page here and click on "Claim your Free Month" button. You will need to sign in using your Skype account details. On the next page, the confirmation page for the Skype Unlimited World subscription will appear which will ask you for the Billing details like credit card info. Just submit the details and you will have Skype Unlimited World subscription in your account.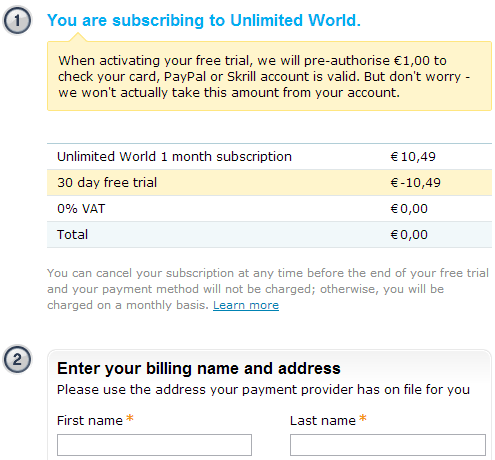 This subscription will give you one month of free unlimited calls, Calls to mobiles in seven countries including USA, Canada and Hong Kong and Unlimited calls to landlines in over 40 countries. So grab this offer till Nov 15 if you are comfortable with provide your billing information and can cancel the subscription before they charge you.