How often you are stuck with a incomplete uninstall of your security products whether its a antivirus or Internet security regardless of the developer of the product? Most of the time we are stuck with some traces the product and sometime even, these security applications refuse to uninstall. Even though most of the security vendors like Mcafee, Norton, Kaspersky etc provide a dedicated standalone remover for their product, still you need to download them for each product you use or test.
AppRemover is a great application which solves this problem without any hassles. We have talked about Revo uninstaller in the past which does the un-installation for almost any application. But AppRemover is specifically developed for Security application and it works. This is a standalone product which means you need not install this application. You can carry it in your removable drive and run it wherever you want.
Developer Description:
The free AppRemover utility enables the thorough uninstallation of security applications like antivirus and antispyware from your computer. Remove computer stress. Simply, cleanly and effectively.
It supports a whole lot of security applications like avast!, AVG, Avira, Kaspersky, McAfee, Norton, Symantec, Trend Micro and many more. Also, support ranges from Windows XP to Windows 7 including both 32 bit and 64 bit of operating systems.

I tested it with some of security applications which were refusing to get uninstalled using their conventional uninstaller including beta version of a recently released Antivirus product.
It scans your system for any security product that is installed or had left over its traces even after you have removed them. It gives you two options of either removing a security application or clean up a failed uninstall.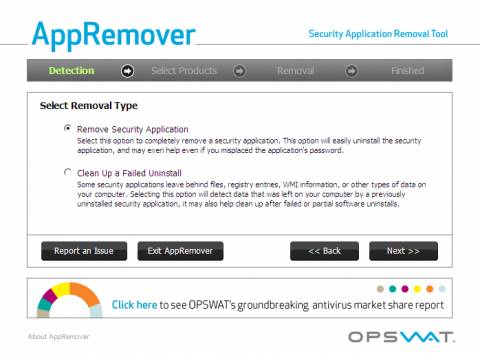 You need to just select the security application detected on your system and click next to remove that product. It will do the uninstall without any problems.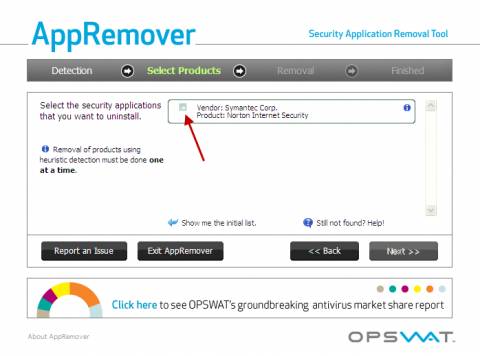 I was able to even uninstall password protected Mcafee enterprise version on my system which was impossible to uninstall unless I provided the password but AppRemover was able to uninstall it without even asking for a password.