Few days back on Windows 7 launch, many of you may have got a free license of Panda internet security 2010 in the win7 launch promo. For those of you who missed it, here,s a chance again to grab a genuine one year single user license of Panda internet security free for 1 year. I am giving away one license in  giveaway to one of the lucky subscribers of avinashtech. I recieved this key on 22nd oct. using the same promo but i wont be using it.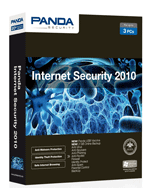 For being eligible to participate in contest/draw, you need to do the following:
Subscribe to Avinashtech by entering your email address in the subscribe box on right sidebar of the blog or by clicking this link.. Do remember to verify your email address when you get the verification email from Feedburner.
After that , you need to leave a comment on this post downunder.
Winner will be chosen randomly after 5-6 days.
UPDATE :- The winner is John. John just send a email to support [@] avinashtech.com to confirm your email adress and your license will be sent to your inbox. Cheers