Some of you may know that beta version of Kaspersky Internet security and Antivirus has been released. I was able to grab the beta version of  KIS 2011 and tested it on my system. Today I will be talking about KIS 2011 beta and how it differs from its previous versions. Everyone should keep in Mind that this is still in beta and hence bugs may be there until  the final version comes out.
My system Configuration on which this testing was done :
Windows 7 64 bit home premium
Intel Core 2 Duo processor
4 GB DDR2 RAM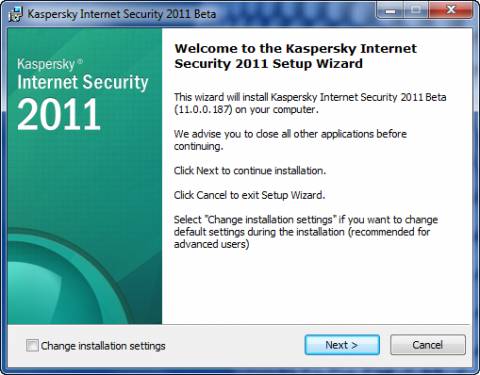 1. Increase in setup file size :
First thing that you will notice that for first time setup of any Kaspersky product has crossed 100 MB. The setup file for English version is 100.2 MB in size. The last KIS version 2010 was ~72 MB. That means a increase of ~28 MB.
2. Longer installation time :
The installation time taken for installing KIS was a bit longer than I expected. Evenn though i didnt recorded the time, I can say for sure the installation time was more for both the upgrade install and a clean install compared to 2010 version.
3. Problems while upgrading from 2010
As my system already had 2010 version of KIS installed, I first tried upgrading it just by running the install over it without uninstalling 2010 version of KIS. Kaspersky was able to detect the 2010 version and uninstalled it before installing 2011 beta. Everything went smooth as expected and It asked for a restart of system which I did.
On restart system, It asked for activation. I just used the option to activate Kaspersky beta version.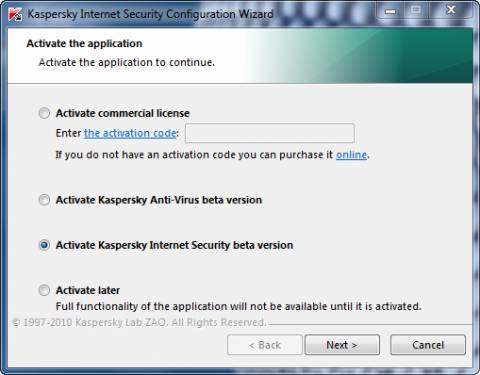 Another change here i found out. It gave me a exact 30 days license, which was not in previous beta versions. Last year it was more than 1 month.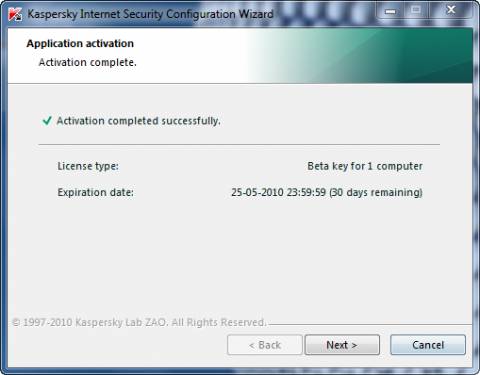 Problems started after KIS started on the system. It said, database is out of date, so I updated it. Even though update went off smoothly and updated database showed a date of 25/04/10, Â the database got corrupted by the update. I tried updating again and still problem remained. Then i tried to repair the installation, but still it showed corrupted database and hence KIS was not working.
The problem only got solved when I uninstalled KIS and installed it again as a clean install instead of a Upgrade. NOw everything was working after the update of database.
4. Major Changes in KIS
Changes in the 2011 lineup of Kaspersky (translated from Russian)
Granular control of application rules
The product will now use both KSN and WoC (Wisdom of Crowd) ratings, when application information is gathered (including HIPS policies)
The product informs the user of the following:
-Date the application appeared first (WoC)
-KSN participants who have this application installed (WoC)
-Trust group levels of that application among KSN participants (WoC)
-Geographic information of the application distribution of KSN participants (WoC)
If the product has detected an error during install:
-The user will be informed of the potential infection and AVPTool download utility will be offered.
If the product detected previous home version key (for intance KAV found KIS):
-The product will suggest an alternative code to be installed or convert functionality on the fly (KIS <> KAV)
Single downloadable executable installer for both x32 and x64 bit versions.
-Allows product launch if not started already
-Quick access to the program's main window
-Launch On Demand Task for selected object (file, folder, registry), which dragable onto the gadget itself
-Read Kaspersky Labs news via news agent (linked syndications)
Parental Control — new features
-Game Control (age rating)
-Social Networking Control
-Credit Card payment processor sites
-The product will verify the image consistency
-Automatic signature update, if not actual
-Support for CD/DVD via built in interface
-Support for bootable USB flash card
-The product now desinfects startup entries, registry, ini files, not only files
-Safe Desktop (alternative mode for all secure user operations)
-Internet Zone (Red = KL reputation dangerous, Gray = No information or not enough data, Green = Safe resource)
-Geo Security (Block resources located in certain geographical areas if the user deems that visiting them is not needed)
-Sandbox v2.0 (will now separate browsers from other programs)
-Idle Scan (is launched when certain criterion are met and the computer is iddle – launch of resource demanding tasks such as updater, rootkit scanner, system area scan, when the user is not present)
-Collects and saves events from different product subsystems and helps perform analysis for suspicious activities.
-Alerts the user by providing the information needed to make an informed decisiom (interactive mode of operations)
-The product will support and differentiate non-latin symbols in URLs
5.Enhanced GUI
The Graphical user interface has been worked upon quite well ending up with a better GUI compared to Previous Versions. The menu items are arranged much better category wise. The GUI is dived into Protection Centre, Safe Run, Scan, Update Center, Parental Control and Tools.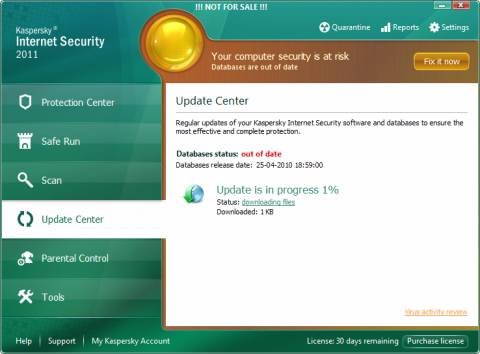 Each Category is further dived into various items making it easier to access various items as per your needs. All the items are collapsed in the default interface.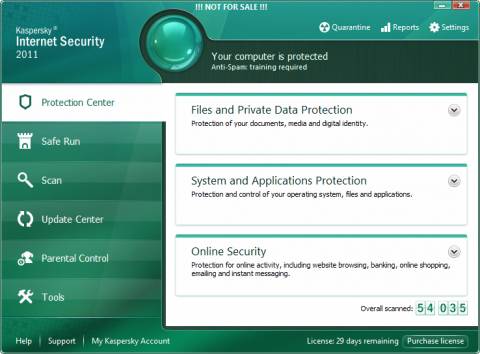 If you click on any of them, It will expand showing further classification. All this makes it quick easy to navigate each feature that you need while using it.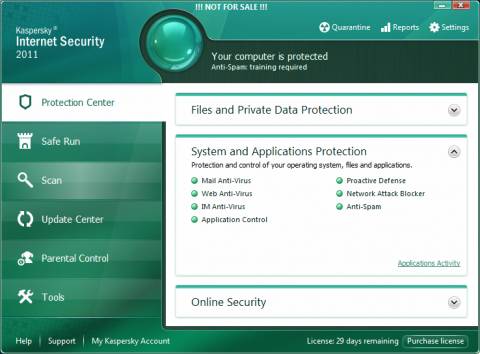 Second tab of "Safe run" feature provides option for browsing websites opersating with confidential data and the ability to clear that confidential data. It also provides you a virtual keyboard option which can be useful for inputing any sensitive data over the web safely.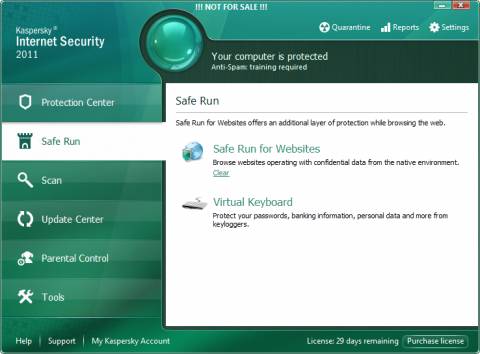 "Parental control" tab provides you option to edit and manage profiles on your system effectively and restricting access to profiles you wish easily.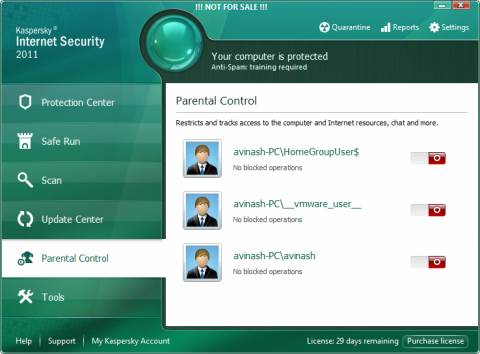 "Tools" Tab provide you option to create a rescue disk, or clear privacy data or do a vulnerability scan or a system restore. This one place is very useful in case your system gets infected.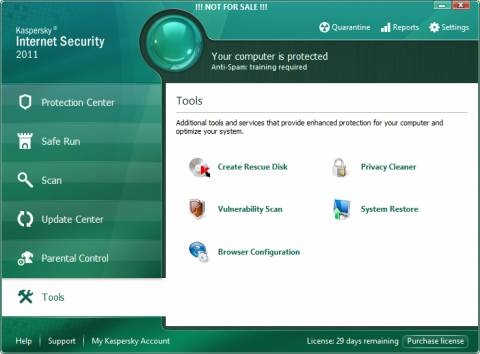 KIS  settings too are divided into various categories like Advanced, Protection center and  Scan Settings, letting you browse exactly what you need.
Another small addition is a small gadget on the sidebar of your desktop providing you quick access to Reports, Safe run and Protection status of KIS.
I did a full system scan on my laptop and it took almost 1 hour 30 mins for a full system scan which included 35 GB of data on C drive and 22 GB data on another drive. It provided me with a list of detected threats but it didn't neutralised the threats on its own. This option can be good if the detected threats are associated with some of your critical files or data. You can just click neutralise all to remove all the threats.
I have tried to cover as many features as possible but still there is much more left to review in KIS 2010. I have not analysed how the virus detction capability have changed as this require much more testing than what I can do right now.
I would like to hear your views on this if you want to test it. The beta version of KIS can be downloaded from Kaspersky developers website. Here is the direct link.
http://devbuilds.kaspersky-labs.com/devbuilds/11.0.0.187/