There are many softwares which enables you to get the Start Menu back in Windows 8, one such software is Win8Starter by Engelmann Media. Win8Starter comes in two versions, a feature limited free version and a Pro version. Thanks to a Chip.de promo you can now get the full version for free.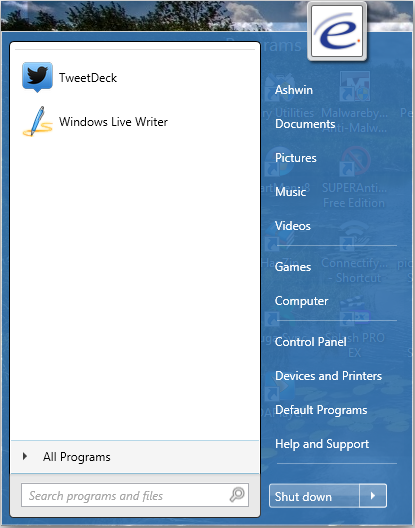 A quick look at the features of Win8Starter as given at the developer's website:
The familiar start button and a start menu are available again on the Windows 8 desktop!
Like in the past: Expand your Win8Starter menu easily per "Drag & Drop" by your own program links.
List of most frequently applied programs and functions. All program entries can be moved and arranged anew.
Also included: Your familiar user folders and the direct links to system folder and –functions like 'Documents', 'My Pictures', 'My Music' ' 'Computer', 'Control Panel' and 'Printers and Devices'.
No complicated switch-off of Windows 8! Select as usual and directly via the start menu between the options like 'Shut down', 'Lock' and 'Restart'.
Lists all the installed programs and all the applications available under Windows 8
All the programs and files that the user requires become faster and more directly accessible!
All functions can be adjusted conveniently via the Win8Starter settings dialogue, among them the fade-in and fade-out of start menu buttons! The dialogue offers nearly all the settings options that you know from older Windows versions.
Full text search with intelligent pre-search, which in most cases shows the results under the installed programs and documents when entering a term.
Furthermore, (compared to Windows 7 start menu) you can add the following useful Windows programs to the button bar: Calculator, Editor, Paint, Task manager, Registry Editor, CMD, Adaptive, System information, System configuration, Explorer and Remote Desktop connection.
Win8Starter is no hack! Win8Starter runs as separate program instance; no system files or registry entries are configured, deleted or changed.
Uniform look: Win8Starter automatically adjusts to the set window color of Windows 8.
Available languages: English, German. More coming soon.
Restrictions of the free version: no settings; no automatic adjustment of menu color; no possibility to add your own shortcuts.
You can read more about the product here.
How to get the full version of Win8Starter:
Visit the chip.de promo page here.
Download the software. Click on Zum download and then on  Download-Server CHIP Online.
Even thought the promo page says it is for the German version, the installer supports English and German.
Run the installer and select English from the drop down list.
Proceed with the installation. A window will popup asking you to fillup a form. Fill it up and click on send.
You will receive an email from Engelmann media,, with another link which you have to click to confirm your interest. Do so and you will receive the license code in another email from the developer.
Open Win8starter and right-click on the menu and enter the license code to register it.
This promo is a part of the Adventskalendar 2012 by Chip.de.
Note: It is for Windows 8 operating system only and a start menu app. It should not be confused with something like Windows 8 Starter version (which doesn't exist though).