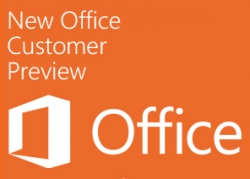 The Consumer preview of the next upcoming version of popular Microsoft office suite is released and is available for download from Microsoft. This release comes with cloud support and support for touch devices like upcoming Windows 8 tablets and phones. Microsoft Office is re-branded as Office 365 which till now was the name associated with the Microsoft Office available for business just like the Google Docs, and it comes in different versions for Home, Business and Enterprise.
Office 365 Versions
The new Microsoft office 2013 as we may call it comes in the following versions.
Office 365 Home Premium
Office 365 Small Business
Office 365 ProPlus
Home Premium version is for families and general consumers which includes an additional 20 GB of SkyDrive storage and 60 minutes of Skype world minutes per month , Small Business Premium version includes business-grade email, shared calendars, website tools and HD web conferencing whereas Office 365 ProPlus is for enterprise customers.
No support for Windows XP and Vista
If you are using Windows XP or even Windows Vista, then there is some bad news. Microsoft Office 365 customer preview is not supported on Windows XP and Windows Vista. You need a system with Windows 7 or Windows 8 (Release Preview/Consumer Preview) to make it work.
Download Office 2013 preview
You can download and try Microsoft Office 365 customer preview here. Keep in mind that you will need to sign in using a MSN or Hotmail account to get access to download. If you choose Office 365 Home Premium Preview, you can install it on up to 5 household PCs. Office 365 Home Premium Preview comes with Includes Word, PowerPoint, Excel, Outlook, OneNote, Access, and Publisher.
Office 365 License Validity
You must keep in mind that its only a preview release and hence it will cease to work after the final version is released as can be verified from the FAQ Page.
If you have installed an Office 365 plan, the Preview will expire approximately 60 days after the next version of Office becomes available in your market.