Just yesterday, I talked about some of the best FREE Anti Virus tools available to you to protect your computer from viruses and other malicious stuff. Today I will talk about some of the best Free Anti-rootkit tools that are available to protect your system.
What is Rootkit
First of all, lets talk about what a Rootkit is and what it does do on your system. A Rootkit is basically tools or applications running on your computer hidden from you most often with the intention of granting secret access or control or both over the computer's operating system to hackers, viruses, worms and other malicious entities and hide their presence on infected systems.
It comprises a set of programs and scripts that work together to allow attackers to break into a system. Rootkits can remain undetected by many anti-virus software.
Best Anti- Rootkit Tools Available
Free rootkit detection and removal tool for Windows which scans, detects and removes any rootkit that is hidden on your computer using advanced rootkit detection technology..

Panda Anti-Rootkit
Its a small tool from Panda securities which lets you get rid of rootkits. The problem is tool is not updated and the anti root kit portion is included in their antivirus product these days. Still this tool is handy.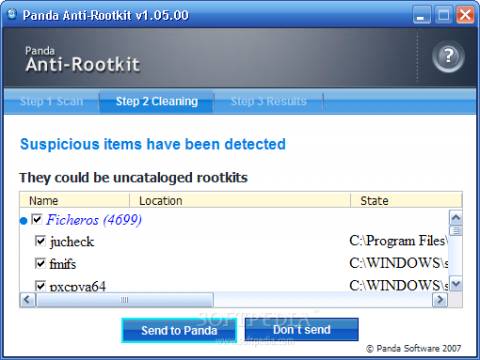 This is a Free anti-rootkit program for Linux, MAC, BSD, Solarix and other Unix versions. Chkrootkit is a tool to locally check for signs of a rootkit.
SanityCheck (Previously Rootkit Hook Analyzer)
SanityCheck is an advanced rootkit and malware detection tool for Windows which thoroughly scans the system for threats and irregularities which indicate malware or rootkit behavior. By making use of special deep inventory techniques, this program detects hidden and spoofed processes, hidden threads, hidden drivers and a large number of hooks and hacks which are typically the work of rootkits and malware. It offers a comprehensible report which gives a detailed explanation of any irregularities found and offers suggestions on how to solve or further investigate any situation.
Suitable for Windows XP, 2000 and 2003, Windows 7.
A free application that detects and removes rootkits. GMER is an application that detects and removes  rootkits .It scans for hidden processes hidden threads, modules, services, files, Alternate Data Streams, registry keys etc.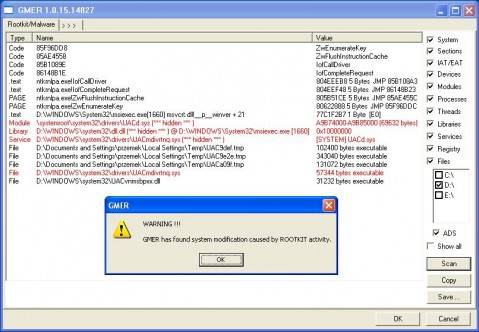 These tools are good for detecting rootkits within your infected system. Even though most of good antivirus these days include Anti rootkit abilities, but you can give these tools a try if nothing else works on your infected system. Most of these tools doesn't support Windows 7Â  except Sanity.
Would love to hear from you if you got any feedback or clarification required.