There are many web services available to send SMS or text messages for Free. Popular email service Gmail too is now offering you this feature inside its web-mail and now you can send  SMS or text messages to almost anyone in the world. This new option of sending SMS was visible in my Gmail account just yesterday.
 Chat option in your Gmail account is now changed to "Chat and SMS". To send a SMS to any of your contacts, just hover your mouse to any contact and Click on More tab. There you can see the option of "Send SMS".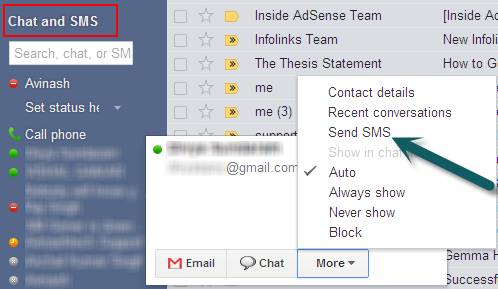 When you select the option, you will get a box asking you to input the mobile number of the contact to which you want to send SMS (If you have not saved any mobile number for that contact before). Just input the mobile number and click Save. You can add numbers for majority of  countries. Few are still not supported.

After this you can now type your SMS message in the chat / SMS window just like you use the Gmail Chat. Just type the message and hit enter. Your SMS or text message will be sent.
At the moment many carriers are not supported in India. In fact, the List of supported mobile operators page doesn't include any carriers from India.
You are allotted a credit of 50 SMS initally that you're able to send to a mobile phone.
Every time you send a message, your credit decreases by one.
Every time you receive an SMS message in Chat (for example when a phone user replies to one of your messages) your credit increases by five, up to a maximum of 50.
If your SMS credit goes down to zero at any point, it will increase back up to one 24 hours later. So, you won't ever be locked out of the system.
If you are worried about any charges, here is a quote from Google FAQ:
SMS charges: Google does not charge for using this service. However, mobile providers' standard charges will apply to any SMS messages sent from a mobile device to Google Chat. Please check your mobile provider's price plan for details.
This whole system of Free SMS looks to be supported by some Revenue sharing arrangement between Google and the Mobile service providers. Even though Google doesn't disclose anything about these agreements, you can get the clue from the fact that  your SMS credit increases by Five for every SMS or text  message you receive in Chat.