Today something odd happened. NERO released a stripped down version of Nero 9.4 which they claim offer basic CD/DVD burning/copying capability, for FREE. For many of you guys including me Nero used to be best tool available for CD/DVD burning/copying few years backs (Till Ver 6.3 or 6.6).
Later on NERO started adding so many bloatware with it forgetting to concentrate on the core job of NERO CD/DVD burning or copying. And all this resulted in many users including me dropping NERO and shifted to some better and yet free tools like Burnaware, CDburner or IMgburn.
So what prompted them to release the free version? Perhaps the competition from free tools which perform good enough for normal CD/DVD stuff. We dont know the exact reason though.
I was happy a bit and hence downloaded the application. But the happiness was gone in just few seconds. The installer was a big 55 MB approx. file.  BY that only i knew, its still full of bloat.
Anyway, i Downloaded it and started installing. You should be careful here as the Setup will install ASK toolbar and google chrome along with changing your homepage to theirs if you didn't un-tick them. Anyway, i installed it with those options off.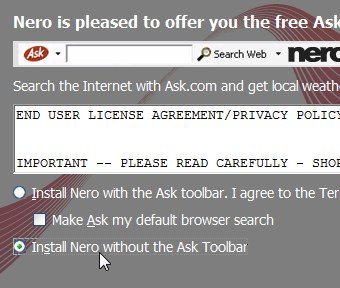 On running the application, i was a bit shocked. It was having almost no options to anything. Just two options for burning/ Copying CD/DVD and for everything else they will ask you to upgrade to Full version. With all that i wondered, what the heck was installed with such a big setup file of 55 MB.
Even free tools like Burnaware free offer you too much of options for your CD/DVD burning needs. I dont think i will be using this free nero even for just one time. Its bad , atleast for me. I uninstalled it in just 10 mins after i installed it. It wasnt good enough to stay on my computer that long enough. By the way, i use Burnaware free and Imgburn for my CD/DVD burning needs.
Still if you want to give it a try or download it, use the link below.