Are you trapped behind a firewall or a filtering web proxy and cannot access some or many web pages or use an application you would like to use or play a game you would like to play? Would you prefer to stay anonymous, that your IP address is not logged with every access to someone's web page? One of the workaround is to use a Free VPN or a premium one. Here is one more Solution.
Your Freedom services makes accessible what is unaccessible to you, and it hides your network address from those who don't need to know.
Just download the client application, install and run it on your PC. It turns your PC into an uncensored, anonymous web proxy and an uncensored, anonymous SOCKS proxy that your applications can use, and if that's not enough it can even get you connected to the Internet just as if you were using an unrestricted DSL or cable connection — just like the firewall suddenly went boom! You can even make your PC accessible from the Internet if you like.
Nearly all applications like web browsers, IM clients work with Your Freedom, and it manages to bypass almost all filters without any difficulty.
You need to have a account with Your freedom to use it which you can easily get by signing upby providing a contactable email address.Just username and password is required.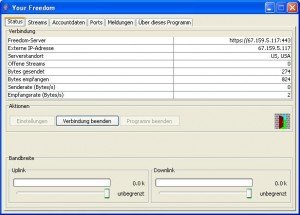 After that, just download the client application (available for Windows, Mac OS X, Linux and everything else that can run Java apps) and run it . The wizard will guide you through configuring it properly.
Then configure your applications to use your own PC as web or SOCKS proxy or use our transparent OpenVPN mode.
Basic  service is available for free. It will provide a bit more bandwidth than a modem connection and up to six hours of usage per day (up to 18 hours per week), and which is enough for casual users ( it's certainly enough to visit blocked web pages and join chats).
For those who want more, upgrade packages are available for which obviously you need to pay.
Download Your-Freedom here.